Kids World Play Systems Website
Making Your Backyard Fun 
After a successful run in development for Hartville Outdoor Products, it was Kids World Play Systems' turn. As the site was growing older and more incompatible with front and backend programming, it was deemed essential for the new website for Kids World Play Systems be worked on effective immediately. I sat down with the owners of Kids World Play Systems and all I could hear is fun, and would I blame them? Their fleet of product is outstanding and the kid in me got very creative right from the get-go!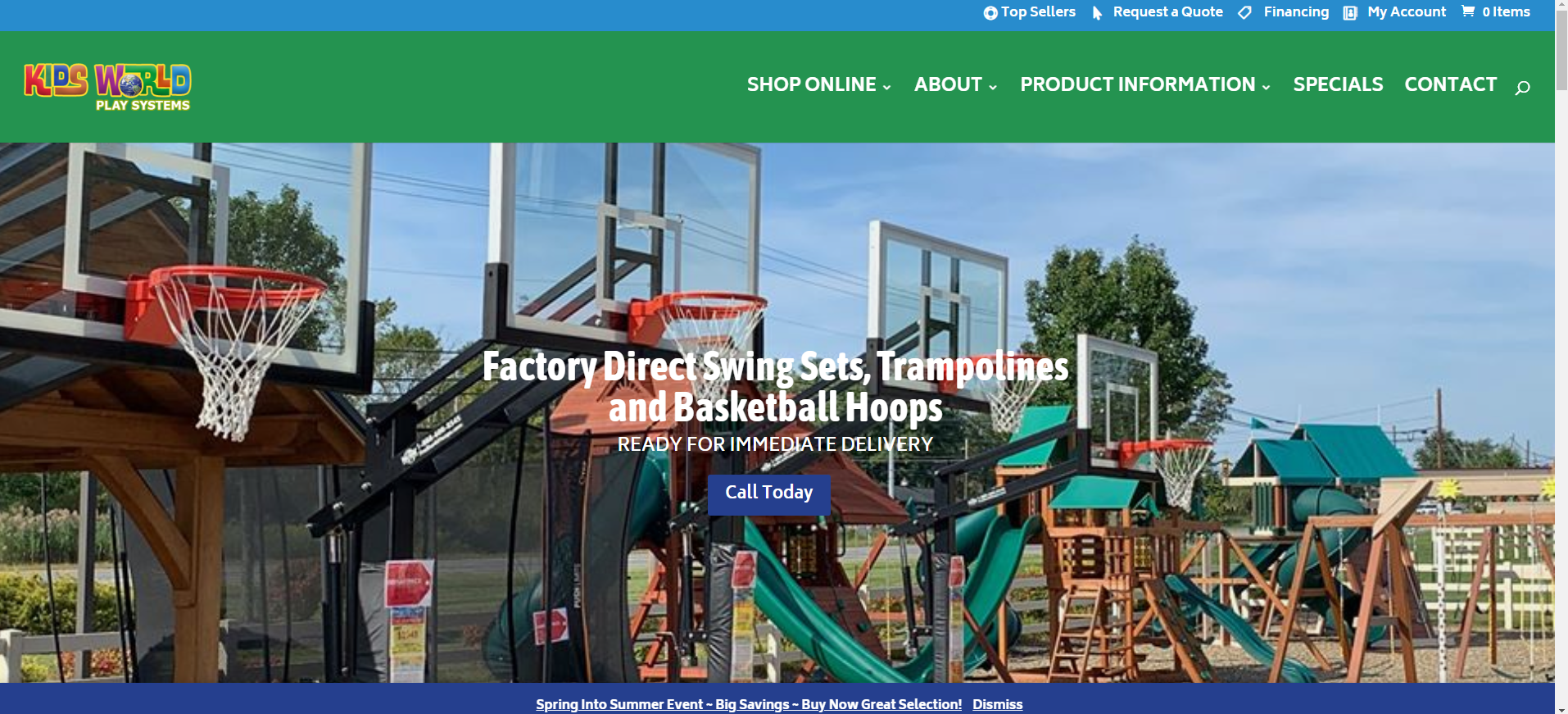 The Goal
Making The Site Functionally and Design-Wise Better
The goal was to get a new build that looked more entertaining but worked as well in terms of ranking for this account. The biggest challenge was because they were already ranking one in Ohio in swing sets so we got one half broke and one half working. So to get it working, we needed to tread closely with all meta data and SEO practice.
View Specials
View Website
The Action Taken
The immediate move was with WordPress & WooCommerce to rebuild a website that was already thriving but ready to fall in the PHP 8 upgrade doomsday of deprecations. I looked at all competitors and seen what everyone was doing and I found so many niches that when I went through designing, I went through maybe 55 scratches on the scratch board of my designs. That was what took me the longest in the product because like every project, I want to make a masterpiece each time, but there was so much to cover in this industry.
I turned in the design with a major head turn. The client immediately approved and I got right to work on the website. The most exciting part of the project was when I started seeing the entire list of new pages altogether. With many beautiful templates, sales pages, product parent landing pages and more marketing SEO pages, the site has been expanded the way I wanted to be.
I integrated a few Google APIs in this website on the promotional and functional side of the website. I used the Google Maps API to display their showrooms and even has Virtual Reality capabilities! I also integrated the Google Places API for autocomplete on address fields when you go to add address fields when you place an order online adding more convenience for the user and more.
The product templates was also working for me as it matched well with the overall concept. These pages now have more capability for marketing and growth for every product in the website from play mulch to a commercial playground or a basketball to a basketball hoop or even trampoline steps to a trampoline itself.. okay I know I am getting carried away here.
To Conclude
The launch was interesting as more orders came through on the website that had all of our heads spinning. This not only improved how the site looked, but overall sales improved, even in dead season where no money is made!
Kids World Play Systems is now live and you can order your backyards most entertaining enhancements for you and your children. Get started with your next purchase today!