Death Stranding Inspires Me: Here's Why
An Outstanding Thought and Creation
I for one, have never played a Kojima game in my entire life! Such a shame I have not all of this time because it is obvious this man is a genius! Almost every game he has dropped received critical acclaim and is a massive revenue hit. There is no secret that he had issues with Konami years back now that Kojima Productions is now an independent Game Studio and Publisher out in Japan. I cannot even start to fathom on how hard it was for Kojima to get started on their first IP since leaving Konami in terms of cash flow and other monetary problems that keeps the doors open for studios. The fear, anxiety and uncertainty must have put a massive toll on the team and especially for Mr. Kojima himself. They pressed on and I remember with their reveal with having Norman Reedus in an IP for Silent Hills which has now been cancelled and potentially one of the many reasons Kojima Productions is now an independent studio.
I thought having Norman Reedus in a game was a brilliant idea. He plays the badass character in The Walking Dead and he has a wonderful reputation as an actor. The first trailer for Death Stranding came out and like everyone else, I was confused, but excited at the same time. A naked Reedus looking up at five blurs in the sky? Might be a hint of our past I thought at the time and I could not have been more right about it in terms of the plot of the story.
I am in no way going to be spoiling the plot, as I for one am the many who like the game and think it was brilliant. I think you will need to purchase the game and play it yourself to figure it out for yourself. I started playing this game with full attention into detail. I was so curious about the game, about what had happened and it remained a mystery until you kept going on in the game. The more you play, the more you actually find out what happened to mankind and how connections play an important role to the game's plot. That is all I am going to go with about the plot. 
I love the fact that many popular names such as Mads Mikkelsen, Lea Seydoux, Lindsay Wagner, Troy Baker, Guillermo Del Toro/Jesse Corti and much more popular names added to this Norman Reedus led cast. I also never noticed other cameos of popular game developers, filmmakers and Mr. Kojima himself! I for one think Tommie Earl Jenkins stole the show in playing Die-Hardman. Seriously, though. In a particular scene, you can see that emotion and it just made me jump with amazement. You see these powerful and defining moments in gaming, but you can see the raw emotion in this man after you find everything out.
The soundtrack was amazing too! Ludvig Forssell killed it! Adding popular names such as Au/Ra, Alan Walker, CHVRCHES, The Neighborhood, Bring Me The Horizon and much more made the game very interesting. Seriously, I had "Ludens" on repeat milions of times. I love the Low Roar songs that play when you travel in specific times during the game, really shows you the beauty of the world Kojima Productions had created!
The gameplay was repetitive and different, but was so much more fun than people made it out to be like in my opinion. Lots of walking until you can get vehicles running. Planning your routes and fighting BTs, MULES or Terrorists can be pretty refreshing. You can even plan your routes via weather. Pizza deliveries are highly important! I just loved it, I almost got the Platinum trophy for the game because it was so fun and interesting. The levels facing Mads Mikkelsen was also very refreshing and fun. The BB is so easy to get attached to, just be careful how you go about your routes, would not want to upset the BB! 
A favorite of mine was also building roads, structures and whatnot to help other players. One of my favorite features, honestly! Being online with millions of other players unseen is a goal of any game I wanted to make later. I have a passion for single-player story based games and with it being online and having the like system, it was just so refreshing. 
Another favorite past time of mine in the game was also BT hunting, I loved aggravating BTs and taking out the catchers with Sam's blood. Won't go into weapons on this because it may disgust some of you out there, but I thought it was cool and made sense. 
Mr. Kojima and the team made an outstanding game and I am excited to play it again soon!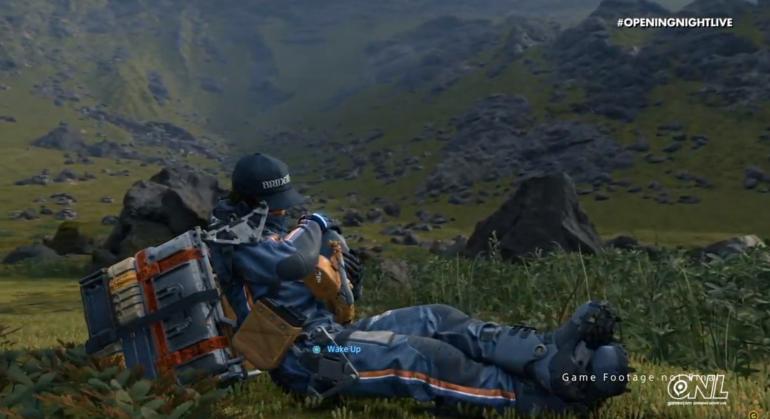 This game inspires me to continue creating on my end. I always look back and think of creative ways of going about my game. It makes me as a Designer and Developer to step out of the boundary and off limits to make some cool things on my end rather it be in Unreal or even on Websites. 
I have always loved the idea of being in an open world and having invisible players you can interact with, but not interrupt your gameplay in a bad way. Creating buildings, roads and obstacles that can help your fellow gamers on their journey as well. That like system and call-out system is really cool as well! 
I love the fact they used Decima Engine by Guerilla Games excited me more. I am a HUGE fan of Decima and the games created behind it. Horizon Zero Dawn, Until Dawn and Killzone just to name a few. The technical side impresses me so much and I love the quality it brings to consoles and now PCs! 
You heard that right, Death Stranding and Horizon Zero Dawn are now being ported to PC for gamers who do not want to play on PS4! A very exciting revelation and I hope PC gamers truly enjoy these amazing story filled games.
The story, the design, the systems and functionality of the games push the boundary and what Mr. Kojima said was right, it is a game changer! It is a completely different game from your usual game and I think that is why it got some backlash from Western reviewers. No Call of Duty / Metal Gear Solid here, just a new IP with fresh ideas!
That is what pushes designers and developers forward in creativity, they look at cool creations like this and they know that anything logical still, can be functional and cool to make. I think this game is truly an inspiration with the message and overall gameplay! 
I think you should play Death Stranding to see. for yourself. Out now for PS4 and Coming Soon for PC! 
Image on top goes to Kojima Productions and Image in Middle of Page goes to ONL.